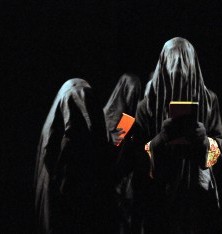 Oasis fundraiser
Thursday, June 14th, 2012
We are very excited to share the next stage of my new project OASIS –Everything you ever wanted to know about the Middle East but were afraid to dance! Our project got selected to preview at the 16th New York International Fringe Festival in New York in August 2012 and we need your help to make this possible.
We are sharing this project at an early stage of its development because we hope you might be interested in supporting the work. We are aiming to raise $6500 by July 11th to cover rehearsal space cost, rehearsal and performance fee for dancers as well as media and press costs. If you can support this project with a donation, in any capacity, together we can make this idea a reality! Sharing the project with others and sending us your thoughts are also very valuable ways to show your support.
Want to learn more?
Click here: OASIS
About USA Projects:
Founded by the Ford, Rockefeller, Rasmuson and Prudential Foundations, United States Artists has supported the work of individual artists since 2005. Donating through USA's micro-philanthropy initiative, USA Projects, supports the work of accomplished artists all across America and is tax deductible.
So help art in America grow!
Gratefully,
Nejla