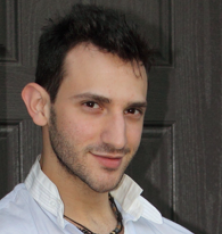 Project Artist:
Fadi Khoury

Fadi Khoury (Dancer)

Fadi Khoury was born in Baghdad, Iraq, surrounded by the folkloric authentic music and dance of the Arab world which was inspired with his father's choreography and dance career. When he was 13 years old he moved to Beirut, Lebanon
where he started his classical ballet training and folklore dancing. He began his professional career at the age of 17, joining the Ranhbani musical theatre company in Beirut as a dancer. In 2005 he joined the Caracalla Dance Theatre dancing and touring with the company around the Middle East and North Africa.  In 2009 he moved to the United States and performed at the Kennedy Center, Washington DC, with Caracalla Dance Theater.  After he moved to New York City where he continues his classical ballet and modern professional dance training at the Alvin Ailey American Dance Theater.  During his transition phase in the US and due to his versatility and passion for dance he established a career in teaching ballroom dancing at different schools of dance with the Arthur Murray Dance studios and at the Empire State Dance competition in New York City.