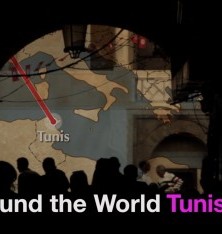 Dancing Around The World- Tunis
Monday, December 14th, 2015
First of all I want to wish everybody a happy, blessed and peaceful holiday season. It's December and we are almost in 2016. Wow, and I can't believe how fast time is passing since leaving for this journey of Dancing Around The World. Enki and I are now in Thailand to rest and finish up the last two videos for the year as well as get ready for the second leg of the world tour.
We have been on the road for eight months, visiting 14 cities in 13 countries with Dancing Around The World. Today we just finished editing a short video of the experience in Tunis that I would like to share with you here. Our residency in Tunis was brief. I only had three sessions with the dancers and we had one shooting day. I taught them a section inspired from the piece 'Oasis A"Everything You Ever Wanted To Know About The Middle East But Were Afraid To Dance,' which I created in 2013 and which was inspired by the Arab Spring that began in Tunisia.
I was curious to see how the movement would speak to people who actually went through the Arab spring and saw the changes happening. It was really hard to get support for this kind of work in Tunis but more than ever it is very important to show the world that we can not put everybody into a box. Every place has good people as well as people who are misguided.
Traveling around the world this year has shown me that despite the terror that is happening around the world, the majority of people want the same thing. They want to be loved and love, they want to be happy and they want to have their basic needs met. They want peace and belong to a community that they feel safe in and that they can create and be creative with.
Is dance or dancing together the answer? I do not think it is Aœthe Answer but I believe in my heart that dance creates changes in people on a very personal way. Dance is a very intimate art form and it makes you go within yourself and brings you closer to yourself. And by being closer to yourself and getting to know yourself deeply you open up to others, and you connect deeply with others. Dancing makes us more empathetic. I think more than ever we need empathy in this world.
We started our tour on April 12th, 2015 and I have taught workshops in 13 cities and I performed in Medellin, San Salvador, Tegucigalpa, Lima and Nairobi the solo What Dreams May Come. We have shared with you our experiences of Chicago, Bogota, Medellin, Lima, Santiago, San Salvador, Pyhajarvi, Tegucigalpa, Berlin, Istanbul , Bologna, Paris, Nairobi and now happy to share with you Dancing Around The World - Tunis. Enjoy!!!


I my next email I will share with you Antananarivo, Madagascar. In January we will continue to India and Japan :)
I feel so grateful to be able to travel around the world and share my passion of the art of moving and dancing and not just on site but also share these mini films. What an inspiring way to get intimately engaged into a culture through the moving arts. I am also very happy to share my passion through movement!!!
We are looking forward to sharing with you our Nairobi and Tunis experience next. It's been an inspiring and invigorating experience so far. It's a beautiful life lesson in cultural exchange around the world.
To continue to get up-to-date information and updates about Dancing Around the World, follow us on Facebook or check the NY2Dance website.
"If you can dream it you can do it. - Walt Disney
Thank you for your support and interest.
Gratefully,
Nejla
Choreographer and Artistic Director of NY2Dance