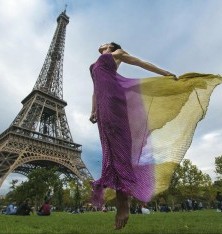 Dancing Around The World - Paris
Saturday, October 3rd, 2015
It's November my birthday month. There is a lot to celebrate. Enki and I now in Antananarivo, Madagascar working with local dancers at the Goethe Institute and the Malagasy Cultural Center. We will also present our solo piece What Dreams May Come at the Alliance Francaise here in Antananarivo at the end of our residency.
It's been seven month on the road visiting 13 cities in 12 countries with Dancing Around The World. We just finished editing a short video of the experience in Paris that I would like to share with you below. Our Paris partner was not very organized so we ended up creating a solo piece in public places. Permissions are hard to get by in Paris and since the terrorists attacks last year the security issues were more sensitive.
After Paris we have been in residence in Tunis, Nairobi and now are in Antananarivo. We are a little behind on our video sharing due to our public activities of teaching, choreographing, interviewing, filming, documenting, performing and editing in Tunis and Nairobi.
We started our tour on April 12th, 2015 and I have taught workshops in 13 cities and I performed in Medellin, San Salvador, Tegucigalpa, Lima and Nairobi the solo What Dreams May Come. We have shared with you our experiences of Bogota, Medellin, Lima, Santiago, San Salvador, Pyhäjärvi, Tegucigalpa, Berlin, Istanbul , Bologna and now happy to share with you Dancing Around The World - Paris. Enjoy!!!
I my next email I will share with you Nairobi and than we will get back to Tunis. After finishing up in Madagascar at the end of November, we will take a break for the month of December. In January we will continue to India :)
I feel so grateful to be able to travel around the world and share my passion of the art of moving and dancing and not just on site but also share these mini films. What an inspiring way to get intimately engaged into a culture through the moving arts. I am also very happy to share my passion through movement!!!
We are looking forward to sharing with you our Nairobi and Tunis experience next. It's been an inspiring and invigorating experience so far. It's a beautiful life lesson in cultural exchange around the world.
To continue to get up-to-date information and updates about Dancing Around the World, follow us on Facebook or check the NY2Dance website.
"If you can dream it you can do it." - Walt Disneya۬a۬Thank you for your support and interest.
Gratefully,
 
a۬a۬Nejlaa۬a۬
Choreographer anda۬a۬ Artistic Director of NY2Dance