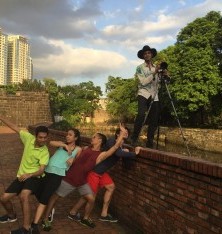 Dancing Around The World -Manila
Sunday, May 1st, 2016
And so it ends..... We are back in the US and I am choreographing for Diversionary Theater a Musical called The Boy Who Dances On Air written by Charlie Sohne and composed by Tim Rossner for April until we have our last stop in Washington, DC. Since Manila we have traveled to Taiwan and Australia with Dancing Around The World. Today I wanted to share with you our experience in Manila, Philippines with the Daloy Dance Company and with a residency at Pineapple Lab based in Manila. It was a beautiful experience working with the dancers in Manila and getting into the culture by sharing in creative ways. It's hard to explain in words all my impressions and experiences. Each country and each culture opens up a new way of understanding movement and why people move. Human interaction is the basis for any culture and for me its the most honest way to learn about people.

As you can see I worked with only the Daloy Dance Company for the filming but gave workshops to many companies and schools in Manila. We had a wonderful lecture demonstration for the Art Gallery in Manila which is not part of the film. For the video we shot in four different locations in Manila to show you the diverse spaces of street life there. It's always amazing to me that people are surprised by dances in public spaces. To me it's so normal and natural to dance in public spaces :)

We started our tour a year ago on April 12th, 2015 and I have taught workshops in 19 cities as well as I performed the solo What Dreams May Come in Medellin, San Salvador, Tegucigalpa, Lima, Nairobi and Hyderabad.
We are almost done with our yearlong project and will return to Chicago in May of 2016 after our last residency in Washington, DC where I will also perform my solo What Dreams May Come at Dance Place on April 30th and May 1stand at Reston Center Stage on May 4th, 2016. I am also excited to share that we will also screen the half hour documentary Where Women Don't Dance by Nel Shelby. I still can't believe its almost over and that we will be home soon!!!

We have shared with you our experiences of Bogota, Medellin, Lima, Santiago, San Salvador, PyhÃAf¤jÃAf¤rvi, Tegucigalpa, Berlin, Istanbul , Bologna, Paris, Nairobi , Tunis, Antananarivo, Hyderabad, Kochi. And now I am excited to share Dancing Around The World - Manila. Enjoy!!!
"If you can dream it you can do it." - Walt Disney

Thank you for your support and interest.
Gratefully,

Nejla

Choreographer and

Artistic Director of NY2Dance