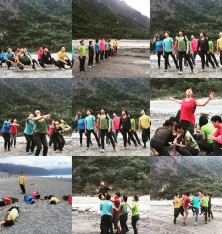 Dancing Around The World - Hualien
Wednesday, July 20th, 2016
I am back in Chicago since May 15th and it's hard to describe the feeling of traveling for a year around the world. Since last year we have been in 20 countries and reflecting back on it seems like a dream. It was an intensely beautiful journey teaching and working with dancers around the world and getting into each culture intimately by sharing in creative ways. It's hard to explain in words all my impressions and experiences. And I think my subconscious is still processing all of it. I believe each country and each culture opens up a new way of understanding movement and why people move but at the same time affirms the similarities we have around the world. Human interaction is the basis for any culture and for me its the most honest way to learn with and about people.

We are a little delayed with our Taiwan film but after returning to the US some personal issues needed to be addressed and so we got a little behind. In Hualien, Taiwan I worked with TAI Body Theatre directed by Watan Tusi. This dance theater group mixes indigenous dances and contemporary theater practices to preserve their ancient traditions but make them relevant to the contemporary times. It was a delight to be in the process with them and to be able to create and guide them through song, movement and text. In the video as you can see we took out the text because we ended up not using it for the outdoor performances but we incorporated it in the final studio showing we shared with the community.

We started our tour a year ago on April 12th, 2015 and I have taught workshops in 20 countries around the world as well as performed the solo What Dreams May Come in Chicago, New York, Medellin, San Salvador, Tegucigalpa, Lima, Nairobi, Hyderabad, Washington, DC and Reston.

We are now completed with our yearlong project and will focus on sorting through the footage to create an the hour long documentary about what moves people around the world. We have shared with you our experiences of Bogota, Medellin, Lima, Santiago, San Salvador, Pyhäjärvi, Tegucigalpa, Berlin, Istanbul , Bologna, Paris, Nairobi ,Tunis, Antananarivo, Hyderabad, Kochi, Manila, Sydney and now Dancing Around The World - Hualien. Enjoy!!!

Our video in Sydney came out in time for International Dance Day!!! I am not sure if you had the chance to view it but here it is :)
I feel so grateful to be able to travel around the world and share my passion of the art of moving and dancing and not just on site but also share these mini films. What an inspiring way to get intimately engaged into a culture through the moving arts. I am also very happy to share my passion through movement!!
"If you can dream it you can do it." - Walt Disney

Thank you for your support and interest.
Gratefully,

Nejla

Choreographer and

Artistic Director of NY2Dance