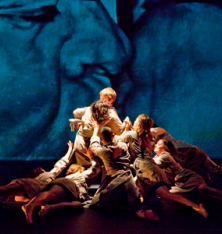 Reviews
Wednesday, April 25th, 2012
A poignant Berlin Waltz

"The wall is still in our heads." That remark, from a collage of interviews played during Nejla Yatkin's "Wallstories," shows how, after the Berlin Wall fell in 1989, its legacy persists.
That's not an easy subject to dance, but by its end, "Wallstories" -- one of several dance pieces at the New York Fringe Festival -- is as haunting as the remnants of the barrier that cut a city in two. " Leigh Witchel - New York Post

New York International Fringe Festival is an International Bonanza

"While the dancers' movements appear desperate, recalling the worst of times, we hear Cold War survivors dryly reminiscing in interviews. Sounding weary and perplexed, these veterans parse their history carefully without reaching any conclusions. Although "Wallstories" remains narrowly focused on Berlin, gloomy viewers may ask themselves about the walls being built for us now."  Robert Johnson - The Star -Ledger

Wallstories

"NY2Dance at Dixon Place as part of the New York International Fringe Festival
A thrilling hourlong contemporary dance piece, "Wallstories" is an episodic exploration of the personal emotions and political issues surrounding the building of, living with, and eventual tearing down of the Berlin Wall. Choreographed by native Berliner Nejla Y. Yatkin and fiercely danced by her dynamic New York–based company, NY2Dance, the work derives its expressive power from the choreography's bold use of full-bodied actions initiated from deep in the torso, plus the exciting combination of big and fast: humongous movements done with
startling speed." Lisa Jo Sagolla, Backstage

Wallstories

nytheatre.com review

Songs from Pink Floyd's rock opera The Wall and a few voiceovers with confessions of people who lived the experience of a Berlin divided into East and West by the Cold War's wall create the soundscape of this gripping dance-theatre piece conceived and choreographed by Nejla Y. Yatkin. Saviana Stanescu- NYTheatre

Wallstories - Nejla Y. Yatkin, Berlin and Beyond

"Wallstories" conveyed the emotional impact of what was and then was not. A brilliant, multicultural cast of eight youthful dancers from the United States, Germany, Japan and Argentina performed against a backdrop of actual images of the Wall and the two antagonists' military. The performers danced to music by Pink Floyd and Bach, as well as voices sharing memories of the Berlin Wall from interviews that Yatkin collected and from Yatkin herself".
Judith Lynne Hanna, Dancer Magazine
"New works redefine political movement"

"The strength of this piece lay in Yatkin's smart use of just a few actions and gestures that evoked the denial and the physical and emotional suppression of the times. In one section, one of the male dancers thrashes about like a hooked trout as the other dancers surround him and ever so slowly close in around him. In another, a woman walks shakily across the shoulders of four men. They're standing right up against the rear wall of the space, and from her high perch the woman runs her hands over the cinderblocks, searching for something -- a crack or an opening."

- Sarah Kaufmann http://www.washingtonpost.com

"Nejla Yatkin/NY2 Dance's Wallstories...points us toward a new and exciting explorative trend in the narrative. Yatkin has successfully re-invigorated this aspect of modern dance with her particular use of a true historical entity: the Berlin Wall....Wallstories represented actual emotions and memories linked with this historical structure. She has breathed new life into narrative modern dance; audiences have been waiting for this."

-Heather Desauliers, www.sfdance.blogspot.com (click here to read the full review)

"...strikingly vivid..."

-Jean Battey Lewis, The Washington Times
"This city portrait encompasses cheek, chaos and charisma....Perhaps she is making a movement equivalent of the great novel, "Berlin, Alexanderplatz". Yatkin has been a stunning soloist from the start of her career, but with this choreography she masters the skill of weaving individuals into and out of a group."

-George Jackson, www.danceviewtimes.com (click here to read the full review)

"...feisty young dancers..."

-Rebecca J. Ritzel, The Washington Post
View photos from the Berlin Wall Project featured in the Gallery at www.washingtontimes.com (Click here)

Review for site specific performance - Dancing with the Berlin Wall
"The dancers illustrated ideas of isolation and yearning by thrashing forward and back in swirling attitude turns and low lunges, which gave their movement a clear sense of agitation"  -Gia Kourlas, The New York Times
However, some draw attention to the fallen barrier, such as a dance troupe led by German choreographer Nejla Y. Yatkin, who grew up with the Wall. In her work, she has sought to capture the danger and isolation the Wall has represented, as well as the liberation and joy of its sudden demise. -Astrid Riecken, The Washington Times